Horny Goat Max -
90 Capsules
219 global ratings
Increases blood flow, elevates mood, and reinvigorates the body. Horny Goat Max features the unique combination of Maca root powder, Horny Goat Weed extract, and Bulletproof Naturals Blend. Up to twenty times more powerful than any other supplement in the market. Suitable for men and women.
Select an option:
Aside from Horny Goat Weed, Horny Goat Max has six other active ingredients. The list includes L-Arginine, Maca blend, Zinc, Niacin, Yohimbe Bark Extract, and Guarana extract. On top of that, you get the Bulletproof Naturals Proprietary blend.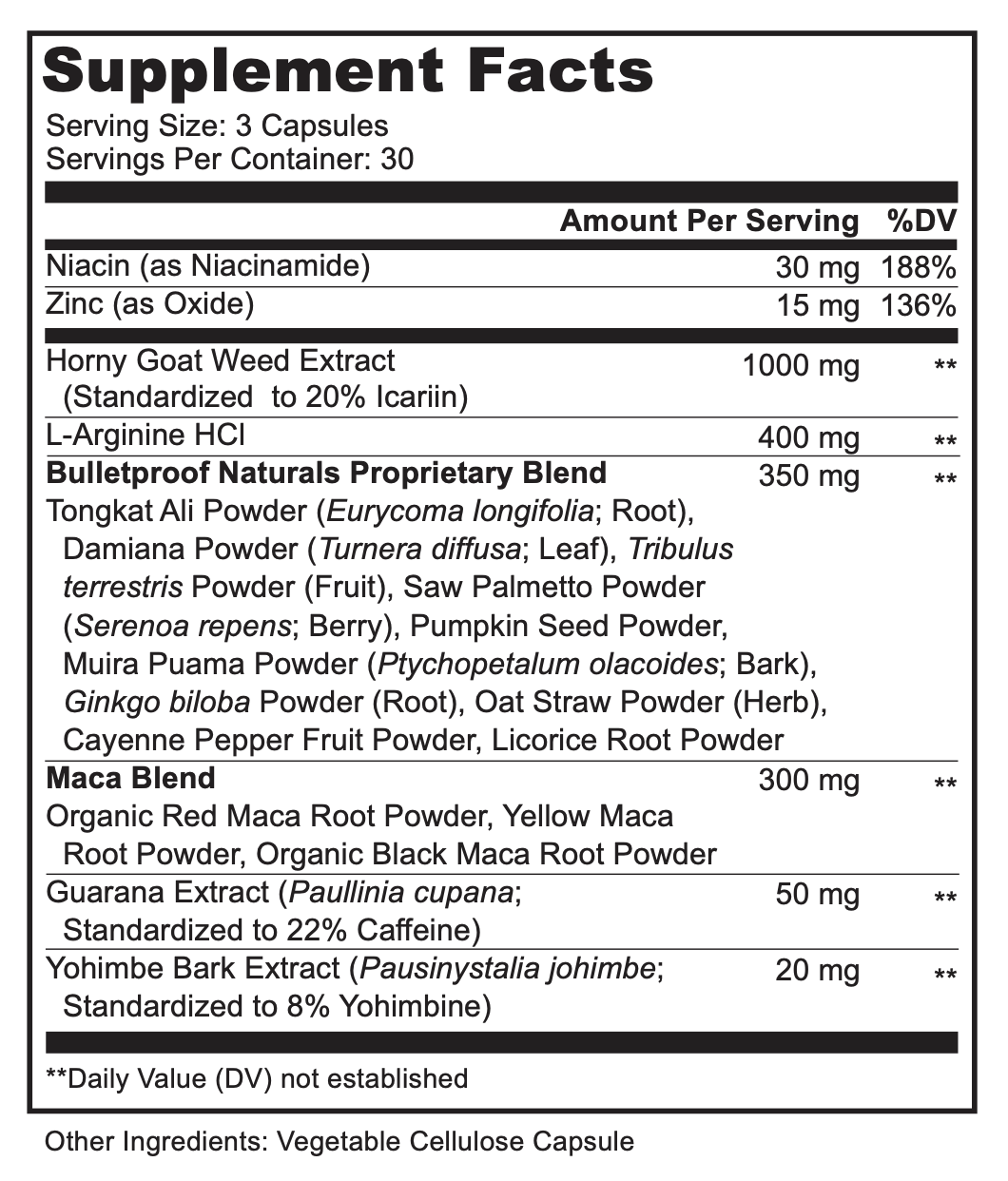 Yes, Horny Goat Max really does the trick. We've taken the tried and tested natural ingredients that affect your blood flow, neural networks, and immune system. As a result, you'll get a powerful boost of energy and strength as well as a youthful libido. And the added benefit? You'll feel more confident than ever before.
Yes, Horny Goat Max boosts stamina and libido for women and men. Each active ingredient affects both male and female nervous system, blood vessels, and libido. But the benefits don't end in the bedroom; you and your partner will be able to have more intense workouts due to the energy and stamina boost.
Yes, Horny Goat Max contains only natural ingredients - there are no chemicals, additives, servants, or other harmful substances. Our supplement sports the Good Manufacturing Practice certificate and it's designed and made in the USA.
To reap all the benefits, you should take Horny Goat Max for up to 90 days every day. That said, your libido, sexual function, and energy levels should increase in just a few days.
There are 90 capsules in each bottle and the recommended daily intake is 3 capsules, preferably with meals. If you work out, it's advisable to take Horny Goat Weed Max about an hour prior to the workout.
Yes, you are the only person who will know what's in the box. Horny Goat Max is packaged and shipped by Bulletproof Naturals.